Steam boat trip (Katamaran) Starnberger See
Sunday, 1st August 2004
Departure 16:00
Duration: 3 hours
How to get to the lake:
S-Bahn (S6) towards Tutzing to Starnberg (1 stop after Starnberg Nord, travel time 35 minutes from Marienplatz); from Bahnhof Starnberg you walk about 1 minute to the landing stage.
Summer, Sun & Fun
A whole ship just for us! Under the rainbow flag we start at 16:00 in Starnberg for a discovery trip around this historically interesting lake. We go by the spot (near Berg) where King Ludwig II lost his life – up till today an unsolved mystery on how he died, murder or suicide, there are many strange rumors around this topic…), along the lakeside with its magnificent houses, we go by the Pocci-Castle near Ammerland, towards Seeshaupt and Tutzing with a splendid view towards the nearby Alps, we go past the Roseninsel, where King Ludwig II and the later empress "Sissi" met a couple of times not far from Possenhofen, where Sissi spend her childhood and adolescence – back to Starnberg.
The ship we take is brand new. The Katamaran is the new flagship of the Bavarian lake navy and was only christened on May 19th of this year. On board you will find music, drinks and snacks and definitely many nice people to talk to and to enjoy this trip with, so that this steam boat trip will be a highlight for every Munich visitor.
Price: 17,50 Euro (without advanced booking fee; two way journey by S-Bahn is included)
Tickets are available at all ticket sales of München Ticket.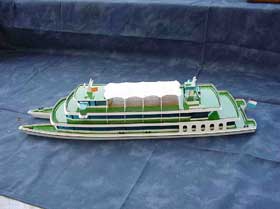 Model of the new Katamaran